There are many good reasons to choose to vehicle donation to the charity of your choice over selling it for scrap or private party, however, knowing your old car is making it possible for charity workers and volunteers to effect change in needy areas of the world has got to be the very best reason of all. 
Here are some of the latest updates on Sponsor a Book, just one of the projects we, at Activated Ministries, have been working with for years. Sponsor a Book is a nonprofit which was started by a pair of young missionaries, Matt and Melissa Roser shortly after they arrived in Sierra Leon, Africa. Matt and Melissa, together with their family, have spent years in Africa, growing the Sponsor a Book program which provides educational materials and products, character building posters and curriculum material, Bibles and more to a variety of low income schools, community centers, churches, abused women centers, homes for the elderly and more.
In 2012 Matt and Melissa received offers to take their program even further. They have since taken trips to India, Croatia and Mexico to make deliveries of donated books and materials, to teach educators and childcare workers how to use the materials and to do music and clown performances. For more detailed information on this project and others which are made possible through your car and automobile donations, visit our website at www.activatedministries.org.
Thank you for choosing to help us make projects such as this one a reality when you donate a car to charity.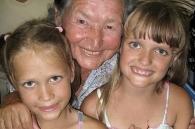 Vehicle Donations Help Sponsor a Book International