If you have recently been in an accident, you may be wondering what's next? How bad is the damage? Is your car totaled or can it be repaired? What steps should be taken with your damaged car? Where should you tow it to? Should you donate the car to charity? etc. 
 
Here is a quick guide on common pitfalls to avoid, assessing the extent of the damage and making the decision of what to do next with your damaged car. 
 
Get Insurance Info and an Accident Report
Although it may be stating the obvious, don't leave the scene before getting all the insurance information you need. Depending on the circumstances and severity of the accident, you should also call the police if you feel there may be a dispute as to who was at fault. Having an accident report with the officer's determination goes a long way towards getting insurance issues resolved more quickly.
 Stay in control of where your car is taken.
 Don't make rash decisions immediately after the accident and be wary of anyone who tries to pressure you to make an immediate decision.  After being in an accident, even if you are well enough to walk away, it takes a little while to calm down and be able to think clearly. You should be able to choose where you have car towed, such as your home or a body shop. If it's at night or a weekend when everything's closed, consider towing the vehicle to your home until you have time to do your research and make arrangements on your terms.  Don't let yourself be pushed to have your car towed to a towing facility where you will incur exorbitant storage fees while you evaluate the damage and decide how to proceed.
Do a little research to find a reputable body shop. Personal recommendations from friends or family are a great way to go, however, Yelp or Google reviews can also be help you avoid the scammers.  
 Is Your Car Totaled?  
Don't take the tow driver's word for it that your car is totaled, and never sign over your car to the tower in exchange for a free tow unless you are really sure that it's not worth getting your car assessed. Damage can seem much worse immediately after an accident. Wait and get an (indepedent) expert's opinion before deciding to junk your car.
There is no specific factor that determines whether your car is totaled or not. For instance, just because your airbags deploy doesn't, in itself, mean that your car is totaled. The same holds true with a bent frame or chassis or even significant body damage. Airbags can be repaired. Modern body shops can even straighten out a bent frame. What it all boils down to is the value of your car and how much all those repairs add up to be. If the cost of the repairs are more than the vehicle is worth (based on KBB, Edmunds, etc.) your vehicle will be considered totaled and title will be changed to a "Salvage" title after you receive your insurance payout.
The amount of repairs an insurance company is willing to shell out to fix damage varies depending on the age, mileage and value of the vehicle. While many insurance companies are willing pay up to 75-80 percent of the value to repair a newer car with low mileage, by the time a car is 10 or 12 years old the amount dwindles to 40-50 percent. After 12 years, unless your car is a classic odds are that no matter what the cost of the repair is, the insurance will not want pay to have it repaired.
 One point to remember is that you can dispute or appeal an insurance adjuster's or body shop's figures. If it doesn't sound right to you or the figures aren't adding up, remember, your agent is "quoting" you a figure. It's not final. You can generally negotiate or appeal that figure if it seems too far off mark.
Flood damaged cars are a different matter altogether. If your car was submerged for any period of time, chances are your car may be totaled. If the water did not go higher than the floor boards, you may just have a major clean up on your hands, but if the engine and electrical parts of the cars were submerged, there is a good chance that the cost to repair the car will be very high and will not be worth repairing. There are steps you can take to minimize damage. For more details on what to do with a flood vehicle, click here.
 Make Sure You Are Satisfied with the Repairs Before You Sign Off
If your insurance chooses to repair your car, make sure they do it right. Once you have the quote from the insurance agency on how much they will pay for repairs, do a little shopping around. If you know of a good body shop, ask your insurance agent if you can get the repairs done there instead.
Request that the body shop use "New Parts" as if you don't specify, they may go with cheaper, used parts.
If you had major repairs like a chassis or frame repair, make sure everything lines up properly by checking for gaps between the doors and body. If there are gaps, point this out to the body shop and insurance company before you sign off on it. A bent chassis or frame can cause you real problems and a lot of expensive tire changes down the road, so be sure to get this right. .
 Consider Donating Your Salvage Car to Charity
 At any point in the process, you can choose to donate a car to charity in exchange for a tax deduction. Charities are just as thankful for donations of cars with body or mechanical defects as they are for good, working cars. Donating your car can also save you a lot of hassle. Once you submit your information to the charity of your choice, they should be able to take care of the rest, including getting you the tax paperwork you need. Salvage cars or damaged vehicles generally get sent to auction and can get a good price, which helps charities further their missions.  When you donate your totaled car to charity, you benefit by getting to claim the sales price of the vehicle (for vehicle sold for more than $500) on your tax return. If it's sells for less, you get to claim at least $500.
 Leave Your Own Reviews
 Make things easier for the next guy by sharing your experiences, whether good or bad, through reviews on Yelp or Google on the tower, tower, body shop, insurance company or car donation charity. A simple, yet honest review may have saved you a lot of hassle, so return the favor. Help to highlight the companies who are doing a good job while exposing those who are scamming people or who do shoddy work.
Copyright: skvoor / 123RF Stock Photo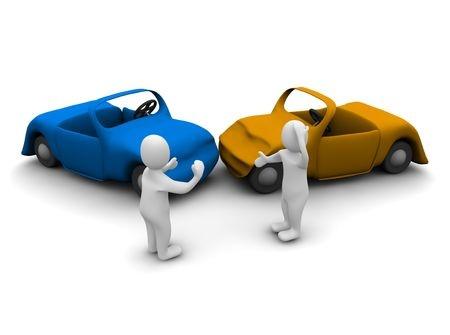 Post Auto-Accident Guide and FAQ